Greetings Doggo Lovers,
Today's PUPdate comes from Dr. Wolf over at Community Veterinary Care in Acworth, Georgia!
Dr. Wolf, as you may remember, is a retired veterinarian. He spent his entire career helping sick and injured animals, but retired so he could do what he REAL wanted to do…help sick and injured animals!
The difference is that now he does it FOR FREE!
That's right, he is funded entirely by donations and uses all of the funds he receives to cover the actual costs of providing the treatment without charging the owner a penny!
When we heard this story we KNEW he was the kind of person our Hero Club wanted to sponsor.
Meet Blue! He's one of the dogs that the We Love Doggos Hero Club recently sponsored.
This little guy is such a sweet and gentle dachshund. He was hit by a car last week and fractured his hind rear leg. His family didn't have the funds needed to get the leg fixed and was faced with the horrible reality that they were going to have to put Blue down.
That's when we got a call asking if we could help with Blue! 14 seconds later we answered with a HECK YEAH and our Hero Club agreed to sponsor his treatment.
We Love Doggos Charity is happy to report that surgery was successful, and that Blue is on the mend.
Dr. Wolf plans on sending us before and after photos once this kind doggo is fully healed.
Blue, we love you!!
Our monthly sponsorships are the backbone of what we do to protect and advocate for doggos in need. We are so grateful for each one of you for helping us support charity initiatives like Dr. Wolf's!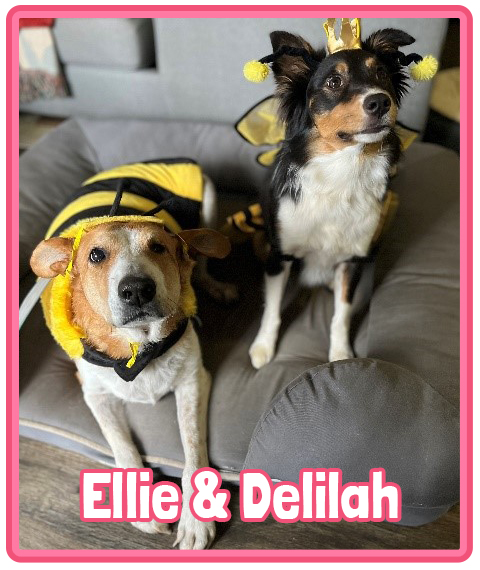 Speaking of bones…Halloween is this Monday! Is YOUR Doggo dressing up?
For some inspiration, here's Ellie Pickles and Delilah dressed up as baby bee's…
Or as Doggos would call them, "jalapeño sky raisins!"
With love and gratitude,
Jesse & Ellie Pickles
Charity Coordinator & Brand AmbassaDOGGO