Happy Thursday Doggo Lovers!
Thursday is one of my favorite days of the week here at the We Love Doggos Charity.
That is because I get to share with you a story of either an amazing Doggo the Hero Club helped save (a SuperDoggo) or a community member who saved a Doggo in need (a Hooman Hero).
This week I want to tell you about two Hooman Heroes from our Facebook communities.
In case you didn't know, we run and otherwise support 4 of the largest dog Facebook groups in the world, over 427,000 combined members!
---
First, let's meet Chelsey. She is a member of our German Shepherds Facebook Group. She rescued two beautiful German Shepherds named Luna and Elektra.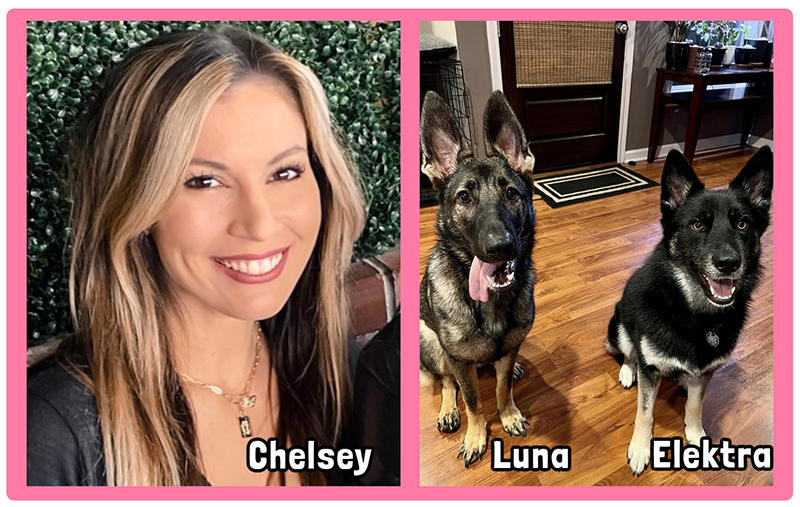 Elektra was a stray dropped off at a kill shelter when she was just 8 months old. Luckily, Chelsey found her there before her time was up and brought her home.
Elektra was happy, but Chelsea sensed that she needed another furry friend to really thrive. So, she kept her eyes open for a second opportunity to help another dog in need.
Boom! The universe delivered. Shortly thereafter she found out about a new litter of German Shepard puppies that needed homes. She brought Luna home not long after and Elektra and Luna have been best friends ever since! In the dog rescue world, that's a "Two FUR", get it…lol!
---
Connect On Social Media
Our community is 427,000 members strong between our German Shepherd, Husky, Dachshund, and Chihuahua Facebook groups. Feel free to join any of our groups and tell us about you and your doggo!
---
Second, we want to introduce you to Harshada. She is a member of our Dachshund Love Facebook Group.
She was already a rescue momma to two special Doggos when she spotted Chikoo and her brother abandoned on a busy street near the airport.
Most people would have kept on walking, not thinking twice about what might happen to these two little guys.
Not Harshada! She found a FUR-ever home for Chikoo's brother but was WAY in love with Chikoo and couldn't let her go.
Now there are THREE rescue Doggos all together in one incredible FUR-ever home filled with love and joy from Harshada and the rest of her Hooman family.

The message is clear, we stand the tallest when we stoop to help others in need. Sometime those "others in need" are furry and have 4 legs.
We love them just the same.